Tibetan Buddhism in Mongolia: Pilgrimage and Teachings, Study and Exploration
Introduction
This two-week trip to Mongolia in the summer of 2011 will provide travelers with a unique introduction to the rich cultural and natural worlds of Mongolia. Participants will explore the pristine beauty of the Mongolian countryside, learn about the historical and present-day connections between Mongolia and Tibet or pra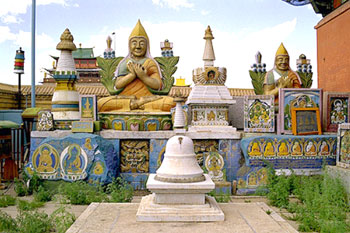 ctice Buddhist meditation.
Participants will travel with Tibetan monk Tenzin Yignyen, who was from His Holiness the 14th Dalai Lama's private monastery. Venerable Tenzin Yignyen has taught at the Gandan Monastery in Ulaan Baatar, Mongolia. Visitors will also be joined by excellent local Mongolian guides and translators. Travelers will have the opportunity to study a Buddhist text written by a Mongolian scholar, and receive Tibetan Buddhist teachings in the Gelukpa tradition.
Participants will have the opportunity to visit the Baldan Baraivan Monastery. At its height, the Baldan Baraivan Monastery housed nearly 6,000 monks. The Tibetan-style temple was constructed in the 1700s and was one of the leading centers of learning and culture in all of Mongolia but presently the temple is in ruins. In the 1930s almost all of the iconography and building materials were destroyed or removed from the site. Only a shell of this great building was left, as the stone walls were too large to dismantle. The Cultural Restoration Tourism Project (CRTP) took a unique approach to the restoration of the main temple at Baldan Baraivan. Please review the CRTP Welcome Package for further details.
Join Us!
For this special Buddhist pilgrimage across Mongolia. Guests will...
* Experience the country's vibrant cultural and religious life,
* Be touched by the unsurpassed natural beauty,
* Travel with a Buddhist monk and explore Buddhist teachings,
* Visit ancient Buddhist monasteries and temples.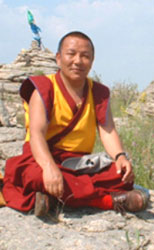 Trip Leader
Ven. Tenzin Yignyen was born in Tibet. In 1969, he entered Namgyal Monastery, the personal monastery of His Holiness, the Dalai Lama, in Dharamsala, India. Here, he studied monastic ritual and philosophy, and was ordained as a monk by His Holiness, the 14th Dalai Lama. In 1985 he received the monastery's highest degree, "Master of Sutra and Tantra" with the highest honor, which is equivalent to a Ph.D. degree. In 1993, he was invited to Gandan Thekcheling Monastery in Ulaan Baatar, Mongolia, where he taught Kalachakra tantra and mandala construction for one and a half years. Tenzin was selected in 1995 to teach at Namgyal Monastery's North American Seat in Ithaca, N.Y. He has since remained in the United States, providing instruction in tantric ritual, Buddhist philosophy and Tibetan Buddhist sacred art forms. For the past nine years, Tenzin has been professor of Tibetan Buddhist studies and sand mandala painting at Hobart and William Smith Colleges in Geneva, N.Y.
Trip Itinerary
Day One (June 15):
Arrive in Ulaan Baatar
Day Two (June 16):
Visit Gandar monastery and the adjacent Buddhist University. Group will have a private audience with abbot of Gandan Monastery. We will also visit Chojin Lama museum and Bogdh Khan Palace.
Day Three (June 17):
Visit Manjushir Monastery set in the oldest nature reserve in the world.
Days Four & Five (June 18-19):
Visit the ruins of Khogno Khan and spend nights in a Gir, a traditional Mongolian nomad yurt. Khogno Khan is the 1,967 meter peak to the north of the main road. At the southern foot of the mountain are the meial of Uvgun Khiid, built in 1660 after the exciting monastery was destroyed and the workers were massacred by the armies of Zungar Galden Bochigtu, a rival of Nabazar's in 1640. The monastery reopened in 1992 and there are a couple of workers from Ulaan Baatar. The head lama is a charming lady who proferses the sooth saying abilities. We might spot ibex, wolves and many varieties of hawk. There are lots of hiking possibilities around here. We will spend a night in the Ger camp in this beautiful countryside.
Days Six, Seven and Eight (June 20-22):
Visit Erdene Zuu and Shankh Monastery. Erdene Zuu is the Mongolia's oldest monastery, built in 1586 on the base of Karaleorum, the former site of Ghengis Khan's capital. This nomadic area is considered particularly auspicious by Mongolains. Spend the nights at the Muugun Mod Ger camp. Horse riding is available here.
Day Nine (June23):
Return to Ulaan Baatar and rest.
Days Ten, Eleven and Tweleve (June 24-26):
Drive to Baldan Bairavan Monastery ruin, which was the largest monastery in Mongolia once. The ruins of Baldan Bairavan monastery sit in Khenti Province, about 150 miles from Ulaan Baatar. We will tour the remains including the 300 year old main temple, Manjurhri and Tsong Khapa statues. We will learn the history of the monastery and the surroundings. Ven. Tenzin Yignyen (trip leader) will lead morning and evening meditation and Dharma talks during this regiment of the tour.
Day Thirteen (June 27):
Drive to Terelj tourist camp and spend the night there. Terelj is about 80km north-east of Ulaan Baatar, is a deservedly popular destination. The area is cool and the alpine scenery is magnificent, and there are great opportunities for hiking, rock climbing and horse riding. Terelj was first developed for tourism in 1969 and 30 years later it became part of the Gorkhi-Terelj National park. We will spend a night at Ger camp.
Day Fourteen (June 28):
Return to Ulaan Baatar and rest, farewell dinner.
Day Fifteen (June 29):
Depart Ulaan Baatar for the USA.
Trip Costs and Reservations
Price of the trip is $2,650.00 for each participant.
The fee includes: hotel and ger camp accommodations, three meals per-day, in-country transportation, tour guides and translators.
The fee does not include: airfare from point of departure to Ulaan Baatar, Mongolia, travel Visa fees, health or evacuation insurance or pocket money.
Conditions:
Reservations are guaranteed with a $500 (U.S.) deposit until April 1, 2011. Entire trip cost must be received by April 15th, 2011.
Fees are fully refundable up to 60 days before the trip less a $75 (U.S.) administrative fee. Fees are 50% refundable up to 30 days before departure. No refunds will be issued less than 30 days before departure.
Reserving a spot:
Reservations can be made at anytime by contacting Tenzin by phone or e-mail.
Please note, this group is limited and may fill-up quickly.
Phone: (315) 781-3707 E-mail: yignyentenzin@yahoo.com
$500 deposit/ per person will reserve your spot.
Payment is in U.S. dollars only.
Payment:
Credit: Visa or Master Card
Checks should be made payable to Tenzin Yignyen and mailed to:
121 Hamilton Street, Apartment #1
Geneva, NY 14456 USA
Tenzin welcomes phone calls and e-mails at yignyentenzin@yahoo.com, or (315) 781-3707, day or (315) 781-3058, evening.
Trip Highlights
Learn about the history of Tibetan Buddhism in Mongolia
Participate in Buddhist teachings and meditation
Experience the inspiring natural beauty of Mongolian countryside
Visit ancient Buddhist monasteries and temples.
Come, join us on this amazing adventure
Photos
| | |
| --- | --- |
| | |
| An example of a Mongolian archway, taken during the summer 2005 pilgrimage to Mongolia. | Program Director Tenzin Yignyen with the pilgrimage students during the summer 2005 pilgrimage to Mongolia. |
| | |
| Program Director Tenzin Yignyen and his students during the summer 2004 pilgrimage to Mongolia. | Program Director Tenzin Yignyen with the pilgrimage students during the summer 2004 pilgrimage to Mongolia. |
| | |
| A typical tourist camp visited during the pilgrimage to Mongolia. | |