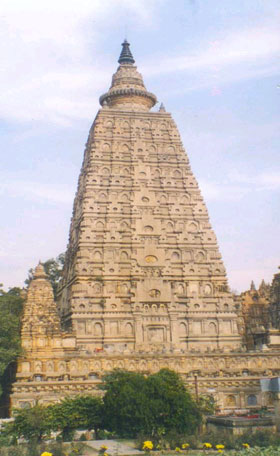 The Purpose:
The purpose of this tour is to Learn, Experience and Enjoy the beauty of Indian and Tibetan culture with your own eyes and experiences. India is not only a country with a long history but a modern society with very rich in culture, religion, language, arts and philosophy. It is also the birth place of many major world religions as well. According to Buddhism; visiting, meditating and praying in these great ancient sites, where so many enlightened masters of the past have walked, preached and blessed, makes one's entire body and mind come alive with blessings of loving kindness, utterly rejuvenated with great compassion and purify our negative karmas.
Where:
During this pilgrimage trip we will visit following sites: Delhi, Dharmsala, Varanasi and Bodh Gaya.
Delhi: Delhi is the Capital of India. It is also the center of Indian culture, religion, politic, architecture and arts. During our stay in Delhi, we will visit Indian landmarks such as Red Ford, Gandhi Samadhi, Raj Ghat, and also visit Qutb minar, Bahai Temple, Sikh Gurudwar and Hindu temples.
Dharmsala:Dharmsala is situated in the northern Indian state of Himachal Pradesh. It is divided into two very different parts. Kotwali Bazaar and areas further down the valley (at the average height of 1,250 meters) are called Lower Dharmsala, inhabitants are almost all Indians. While McLeod Gunj (at the height of nearly 1,800 meters) and it's surrounding areas are known as Upper Dharmsala. McLeod Gunj is primarily a Tibetan area and it is surrounded by pine, Himalayan oak, rhododendron and deodar forests. Dharmsala is also the exiled home of His Holiness the 14th Dalai Lama Tenzin Gyatso since he came to India in 1959. The Tibetan Exiled Government, major institutions, monasteries and a Library are also located in Dharmsala. Dharmsala has risen to international repute as 'The Little Lhasa in India.' During our stay in Dharmsala we will visit the Tibetan Institute of Medicine and Astrology, Tibetan Art Center in Norbulinga, Monasteries and Nunneries, Tibetan Children's Village, Tibetan Library, Main Temple in Dharmsala and meet some Tibetan Lamas. I will also arrange some lectures from above institutions.
Varanasi: The city of Varanasi is situated along the west bank of the River Ganges in the north Indian state of Uttar Pradesh. Called be the British, Varanasi is an important pilgrimage center for the Hindus. The city finds mention in the great epics of Mahabharat and Ramayana. It was a flourishing trade center when Buddha came to Saranath, about 10 kilometers away where Buddha gave his first teaching of 'The Four Noble Truths', in 500 BC. It was already an old city when Rome was founded. The renowned American novelist Mark Twain once wrote, 'Benaras is older than history, older than older even than legend and looks twice as old as all of them put together.' It is a city of temples and for thousands of years it has attracted pilgrims from near and far. During our stay in Varanasi we will visit ancient Hindu, Buddhist and Muslim temples, Ghats build along the banks of River Ganges, Religious activities, The Archaeological Museum and city of the Varanasi.
Bodh Gaya:'The Land of Enlightenment of Buddha'. About 160 miles east of the holy Hindu city of Varanasi lies the town of Bodh Gaya in the state of Bihar, where prince Siddhartha Gautama achieved enlightenment or Buddhahood under the Bodhi tree. Bodh gaya is the most sacred of many treasured locations for Buddhist of every school and sect. Today, it is the site of the famous Mahabodhi Temple, which is a pilgrimage destination for Buddhists from all over the world. During our stay in Bodh Gaya we will visit Mahabodhi Temple, Bodhi Tree, Temples and monastery from different Buddhist countries and schools.
When:
Trip Itinerary: This trip is for two weeks from December 26th 2011 to January 10th, 2012.
December

26

Depart United States

28

Arrive New Delhi, India

29

Evening, Leave for Dharmsala

30

Arrive in Dharmsala

31

Stay in Dharmsala

1

Leave for Varanasi in Afternoon

2

Arrive in Varanasi

3

Stay in Varanasi

4

Stay in Varanasi, Evening Leave for Bodh Gaya

5

Stay in Bodh Gaya

6

Stay in Bodh Gaya

7

Stay in Bodh Gaya

8

Evening, Leave for Delhi

9

Arrive in Delhi

10

Flight back to USA
Who:
This trip is designed for everyone so you don't need any preliminary preparations. It is suitable for anyone who have interest in Indian and Tibetan Culture, Religion, Arts and even for those who want to just visit India.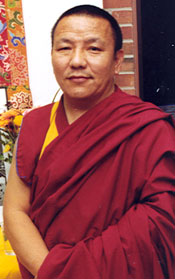 Trip leader:
Venerable Tenzin Yignyen is the trip leader. I was born in Tibet, grew up in India at Namgyal monastery, Dharmsala, Northern India where I spent about 25 years and studied Buddhist Philosophies, Arts and Rituals and received the highest degree of 'Master of Sutra and Tantra'. I visited many parts of the India and particularly visited above sites many times. At present I am a visiting instructor for Tibetan Buddhism and Sand Mandala Art at Hobart and William Smith Colleges in Geneva, New York since 1998.
Cost:
US $ 2650 per person (without Airfare). Please purchase your roundtrip flight ticket from your home to New Delhi, India.
The price includes: All lodging (double occupancy), meals, ground transportations to sites or events on the itinerary and all the entrance fees to monuments and historic sites.
This price does not include: Round trip airfare from your home to Delhi, Visa fees, airport taxes, miscellaneous transportation other than what is scheduled for group, spending money, emergency evacuation insurance (required), travel insurance (not required), expenses for meals that participants choose to purchase outside the scheduled meals, medicine, immunizations, extra luggage fees, personal offerings at temples and monasteries, extended stay beyond trip, changes to or extension of air ticket and express mail delivery of air tickets.
Registration and Conditions:
All reservations are guaranteed with a US $ 500 deposit by August 1st, 2011. Once I received your deposit, I will notify you by email. Please include your home phone number, email address and copy of your passport with the deposit.
Prepare to pay 50% of total payment by September 15th, 2011.
The final payment must be received no later than October 1st, 2011.
Send all the payments by Checks at the following address:
Tenzin Yignyen
121 Hamilton Street
Apt # 1
Geneva, New York 14456
USA

Cancellation Policy:
Fees are fully refundable up to 60 days before the trip less a US $ 75 administration fee. Fees are 50% refundable up to 30 days before departure. Sorry, No refunds after 30 days.
Limitation of Liability
All participants are advised to check with their health insurance carrier as to coverage and emergency evacuation insurance for the duration of the trip. Although the trip leader will take the utmost care and precaution in all stages of planning and executing this trip, there is always the potential for physical dangers, I can not guarantee your safety; I can assure you that your comfort, safety and the quality of your experience are of most importance to me.
For more information please contact:
Tenzin Yignyen at 315-781-3707 or Email: yignyentenzin@yahoo.com
Photos from India
| | |
| --- | --- |
| | |
| Program Director Tenzin Yignyen with his 2006 pilgrimage group at theTaj Mahal in December 2006. | Program Director Tenzin Yignyen gives a tour to the 2007 tour group. |
| | |
| --- | --- |
| | |
| Program Director Tenzin Yignyen and 20 college students at the Taj Mahal in December 2005. | Program Director Tenzin Yignyen and 20 college students met with His Holiness the Daliai Lama in December 2005 in Dharamsala, India. |
| | |
| --- | --- |
| | |
| Program Director Tenzin Yignyen with his 2007 pilgrimage group at the Bahai Lotus Temple in Delhi. | 2008 Pilgrimage group photo in front of Buddhist stupa in Bodh Gaya. |
| | |
| --- | --- |
| 2005 | 2005 |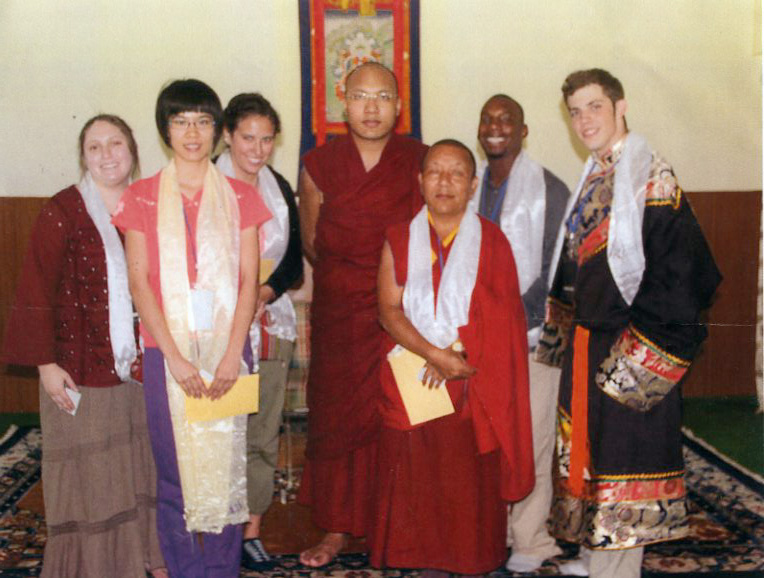 2010