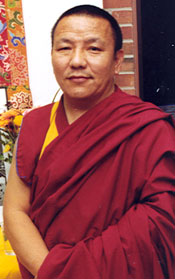 Ven. Tenzin Yignyen was ordained as a monk by His Holiness the Fourteenth Dalai Lama, and entered Namgyal Monastery in Dharmsala, India in 1969. He completed studies of the monastery, including the monastic rituals and philosophical studies. In 1985 he received the monastery's highest degree, "Master of Sutra and Tantra" with highest honor, which is equivalent to a Ph.D. degree. The 16 years of studies are conducted in a highly structured, rigorous, academic environment.
In 1989-1990, he assisted in the research and translation for the book "The Wheel of Time Sand Mandala", in conjunction with the Samaya Foundation in New York City. He has constructed the Sand Mandala in many different venues, including colleges and schools, art museums, Time Square in New York City, and the Smithsonian Folk Life Festival in Washington, D.C. He has also constructed mandalas in Moscow and St. Petersburg in Russia. In 1993, he was invited to Ganden Thekcheling Monastery in Ulanbaatar, Mongolia where he instructed Kalachakra tantric ritual and mandala construction.
In 1995, Tenzin was selected to teach at Namgyal Monastery's North American Seat in Ithaca, N.Y. for three years. (Namgyal monastery is the personal monastery of His Holiness The Dalai Lama.) After that assignment, he has remained in the United States, and has been giving instruction on tantric ritual, Buddhist philosophy, and Tibetan Buddhist artforms. Teaching has been conducted in both academic environments and traditional methods, handed down from the times of the Buddha nearly 2,500 years ago, in an unbroken lineage from teacher to student. Tenzin is currently a visiting professor at Hobart and William Smith Colleges, serving as a Professor of Tibetan Buddhist studies since 1998. He also acts as a spiritual counsel to groups and individuals, a traditional role of the lama in Buddhist practice.
Tenzin has led several pilgrimages to Mongolia and India over the past few years. He was appointed as a program director for fall 2005 India study called NYSICCSI for 20 college students from six colleges in upstate New York. He also led five HWS college students to Dharmsala, India, to do research on Traditional Tibetan Arts in the summer of 2010. The trip was funded by the Asianetwork Foundation.
Mandalas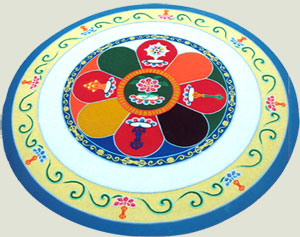 Tenzin has taught and constructed mandalas in many places in the United States, including Natural History Museum in Los Angeles, Windstar Foundation in Aspen, Colo., The Cleveland Museum of Art, The Memorial Art Gallery in Rochester, N.Y., The asia Society in Manhattan, New Dorp High School on Staten Island, Poly Prep School in Brooklyn, N.Y., Sanches Elementary School in Hartford, Conn., Horace Mann School, Riverdale School and Dalton School, Harley School in Rochester, N.Y., St. Andrew's School in Fla., East Hampton School and Ross School in N.Y., Trinity College in Hartford, Conn., St. Lawrence College, Cornell University, FLCC, Colgate University, MVCC, MIT and Mass. College of Art and Design in Mass., Nazareth College and Keuka College in N.Y. More about Mandalas






Buddhist Meditation
Since 1999, Lama Tenzin has led Buddhist meditation for the students of Hobart and William Smith Colleges and local aspirants of Geneva. The meditation schedule for this spring semester is as follows:
Monday evenings from 6:30 until 7:30 p.m. on the second floor of the Office of Intercultural Affairs, located at 288 Pulteney Street on the Hobart and William Smith Colleges in Geneva, NY. Everyone is welcome.