Back to Professor Tinkler home page
-- Art 270 --
Art and Architecture of the First Christian Millennium
last updated 1/12/2002 -- Michael Tinkler

Image Resources
Text Resources
FOUND SOMETHING USEFUL? Email me: tinkler@HWS.edu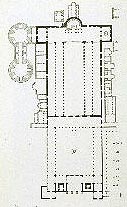 IMAGE RESOURCES
Hobart & William Smith Visual Resources
The place to start for all presentations! Find out if we have the slide first!
the Holy Sepulchre in Jerusalem
great site, interesting pictures
other churches and sacred sites of the Holy Land
organized by a Franciscan -- quite handy. Good photographs. The plans are not the clearest in the world, but they're there! Many of these buildings were financed by Constantine and organized by St. Helena.
The Second Temple
Destroyed in A.D. 70
Use with care -- any site about the lost Temple may be a little cranky. This one looks sound, but I haven't had time to read it carefully.
Donald Binder, who's site follows, links to it. That may be a good sign -- he is certainly a scholar.
Second Temple Period Synagogues
a dissertation reworked into a web page -- some USEFUL images for the built environment of Jewish worship before A.D. 70.
Exceptionally nice web design!
Images of Medieval Art and Architecture -- from medart at pitt.edu
A collection of images of churches mainly in France and England. Other countries are being added slowly.
Inside each country listing the buildings are arranged by city alphabetically.

The PICTORIAL GLOSSARY of Medieval Art and Architecture -- from medart at pitt.edu
This wonderful resource uses frames and highlighted line drawings to illustrate the terminology of medieval art and architecture.
It even PRONOUNCES the word for you!
Monasticism Online
Students ask if there are still monks and nuns -- the answer is "yes, and you should see their web pages." The tradition of the scriptorium is alive and well.
Look here for lots of images of monasteries.

Symbols in Christian Art and Architecture
AN ONLINE SEARCHABLE INDEX TO CHRISTIAN SYMBOLS!


---
TEXT RESOURCES
The Catholic Encyclopedia online
the best source for Saints' lives (Vitae Sanctorum) and handy for some topographical questions


The Labyrinth - Resources for Medieval Studies
Labyrinth's ART resources

The Ecole Initiative -
An amazing project creating a hypertext encyclopedia of Early Church History on the World Wide Web. Great resources,

The Online Reference Book for Medieval Studies
"ORB is an academic site, written and maintained by medieval scholars for the benefit of their fellow instructors and serious students. All articles have been judged by at least two peer reviewers. Authors are held to high standards of accuracy, currency, and relevance to the field of medieval studies." VERY HELPFUL

Search the Bible
This page allows you to search a number of common versions of Scriptures in an array of languages -- just what you need to find that miracle scene!

Early Church Documents
Downloadable documents from the Patristic Period


---
Back to Professor Tinkler home page