---
---
Hobart and William Smith Colleges
Queensland, Australia Term 1996
---
---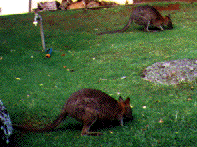 Pademelons at Lamington National Park

---
---
---
This document consists of a series of linked pages which describe a Term Abroad Program in Queensland, Australia which took place from September to December 1996 organized by Hobart and William Smith Colleges. Hobart College for men and William Smith College for women are coordinate, four-year, private, liberal arts colleges located in Geneva, New York with a combined enrollment of approximately 1800 students. A prominent feature of the curriculum is study off-campus. The Colleges organize or are affiliated with more than 20 different study-abroad programs world-wide. Most of these programs are directed by Hobart and William Smith faculty.
---
During the Fall Term of 1996, 36 Hobart and William Smith Colleges' students participated in a term abroad program based at the University of Queensland in Brisbane, Australia.

The students, staff, and staff families at Lady Elliot Island, December 1996.

The focus of the academic program for the Queensland, Australia Science Term Abroad was the marine and terrestrial ecology of Australia. The program integrated its field and lecture components. Courses on statistics and data analysis were included to provide the necessary background for students to do field-based projects that include a substantial quantitative component. Additionally, a course on the society and cultural history of Australia helped put contemporary social issues in Australia in perspective.
The University of Queensland location provided for easy access to an extremely wide array of different ecosystems. The program included major trips to four field sites: a sand island, a subtropical rainforest, a coral reef, and an arid bush habitat.
The program ran during Hobart and William Smith Colleges Fall Academic term: form mid September to early December, 1996.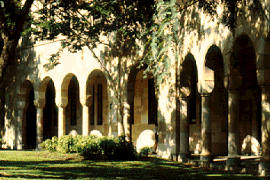 The program was based at the University of Queensland (Australia's largest university) in Brisbane. Queensland is a state on the east coast of Australia and Brisbane is its capital city. With a current population of about 1.25 million, Brisbane is Australia's third largest city, but has a "small town" feel. It holds many attractions for visitors, including its abundant sunshine and tropical climate.

The Great Court at the University of Queensland.


The Hobart and William Smith directors for the term were The program directors were Professor Thomas Glover of the Department of Biology and Professor Kevin Mitchell of the Department of Mathematics and Computer Science. Professor Mitchell directed a similar program in the Spring of 1994. Two faculty from the University of Queensland, David Yates in the Department of Botany and Ian Tibbetts of the School of Marine Science, will direct one course and the field work. Both were associated with the 1994 program.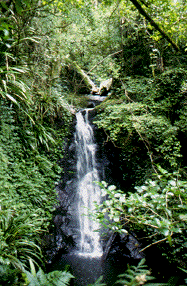 A major feature of the program were the field trips of five to seven days to each of these four locations: There were also three half-day field trips. The first trip was to Mt Coot-tha in Brisbane. It occurred on the second day of the program and served as an orientation to some of the ecological features of Australia. The other trip was the University of Queensland's Vet Farm at Pinjarra Hills for a lecture on marsupial biology and some hands on experience with koalas. The final trip at the end of the program was to the Queensland Parliament in Brisbane.

Waterfall at Lamington National Park.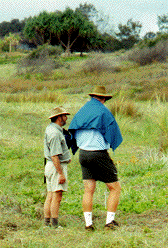 A. The Biology of Australian Plants and Animals (Biology 231)
This course was organized by David Yates (Botany Dept, U of Q) and Ian Tibbetts (School of Marine Science, U of Q) in conjunction with the staff of the University of Queensland. Lectures were given by several University of Queensland faculty from the Science Division. It served, in part,as preparation for the field trips.
B. Statistics and Data Analysis (Biology 212, Biology 312)
Courses were offered by Professors Glover and Mitchell at two levels: an advanced section for students who had taken Biology 212 (Biostatistics) or Math 251 (Applied Statistics) and an introductory section for students with little or no statistics background.
David Yates (left) and Tom Glover at 18-mile Swamp, North Stradbroke Island.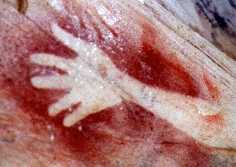 C. Australian Culture, Society, and Contemporary Issues (BD 231)
The course organized by Dr Richard Nile, head of the Australian Studies Program at UQ, featured lectures and films on topics from the views of the Aboriginal peoples of Australia, to the European imaginings and colonization of the continent, the mythology of the Australian battler and the role of Gallipoli in the country's identity, up through issues of modern multicultural Australia.
Red ochre stencil at Carnarvon Gorge.

---
---
---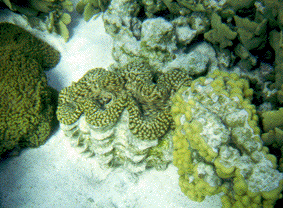 Different species of coral and clams compete for light and nutrients in the protected inner reef flat at Lady Elliot Island,

---
---
---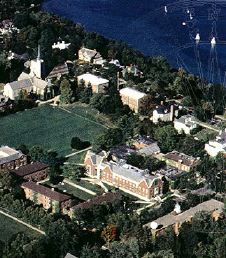 General Information
For more information about the Colleges, see the Hobart and William Smith Colleges Home Page.
Admissions Information
For admissions information, contact The Office of Admissions.
Off-Campus Study Information
For more information on the Colleges' Off-Campus Study Programs, or contact

Dr. Gary Johnston (johnston@hws.edu)
Director, Off-Campus Studies
Hobart and William Smith Colleges
Geneva, New York 14456
USA

---
---
---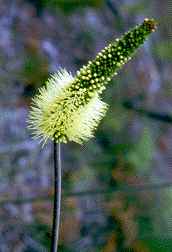 ---
Author: Kevin Mitchell (mitchell@hws.edu)
---
Last Update: 17 June 1997.