A[2]E's recent international projects were supported by a US Fulbright Fellowship. Read More>>

GUANXI PROVINCE, CHINA
Making use of an abundant resource >>
SOUTH CHINA SEA
Deep sea methane mining using specially bred worms >>

SHANXI, CHINA
Small mine methane recovery modeled on deep sea ecosystems>>



A[2]E: PowerCycle Catalog
An overview of A[2]E Projects
Download (pdf)
Alternative Alternative Energy Brochure
Download (pdf, 467kb)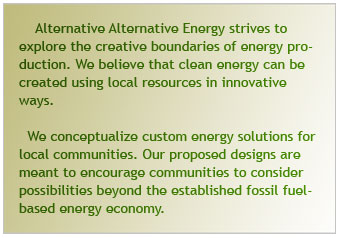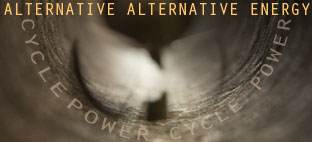 Alternative Alternative Energy: Power Cycle
A self-guided sculpture and video installation of A[2]E projects. Caught in a cycle of energy
gained and lost, each individual project is
conceptualized as a micro energy economy.

more...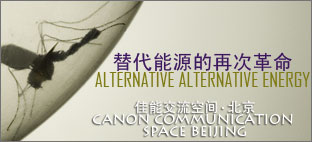 A[2]E: Alternative Alternative Energy
A[2]E projects shown as photographs and video. Chinese translations available. Most recently shown at Canon Communication Space Beijing.

ENERGY ART projection exhibition
With DJ MANIFEST at Shangri-La F2 Bar
Dalian, China


| | |
| --- | --- |
| | ALBUQUERQUE, NM Making light out of an attraction to light>> |
| | |


A[2]E's research into the elusive but enticing idea of a perfect energy cycle.